Underfloor Heating
We provide energy-efficient underfloor heating installations throughout Winterbourne, including areas such as Yate, Bradley Stoke, Thornbury and other areas across Bristol.
Are you thinking about installing underfloor heating in your home in the new year? There is no better time than now to arrange your free quote with our gas engineers! To get in touch with our team, give us a call today on 07716 101545 or 01454 537735 or check out our contact details at the bottom of this page.
Why should I consider an underfloor heating installation?
You may be thinking that an underfloor heating installation might only benefit larger properties that cannot cope with a few radiators to heat the space, but in actual fact, underfloor heating installations are far more energy-efficient than radiators and also require much less maintenance and attention. Having underfloor heating installed in your home by qualified and Gas Safe registered engineers like one of ours here at C Brookes Plumbing & Heating will mean that you are opting for a more modern, no-hassle alternative to radiators that you will be glad you invested in.
(More: Underfloor Heating FAQs)
Modern, energy-efficient home heating
The best part about underfloor heating is that it warms your rooms from the floor up, ensuring that your entire room is uniformly heated. Radiators, on the other hand, heat your space evenly, leaving chilly areas at the far end. In contrast to radiators, which heat the air, underfloor heating employs radiating heat to warm the items in the room. This means you'll see the advantages much sooner, and you can start thinking about lowering your thermostat by a couple of degrees.

No maintenance, no stress!
Unlike radiators, which require bleeding and cleaning to keep them looking neat, underfloor heating requires little to no care over time. They also connect seamlessly with our smart thermostats and heating controllers in the same way as radiators do, allowing you to regulate the temperature of your house from your phone.
Free up more space for new furniture or redecorating
You can say goodbye to your dated, old-looking radiators and give your house the modern redecorating it deserves with the installation of underfloor heating. It's a lot simpler to put down a new sofa, a fresh coat of paint, new wallpaper, or new flooring when there are no radiators getting in the way!
Compatibility with all types of flooring
Underfloor heating is compatible with all types of flooring so you are free to choose whatever suits your home best. Some examples include wood, stone, laminate, tile, vinyl and carpet.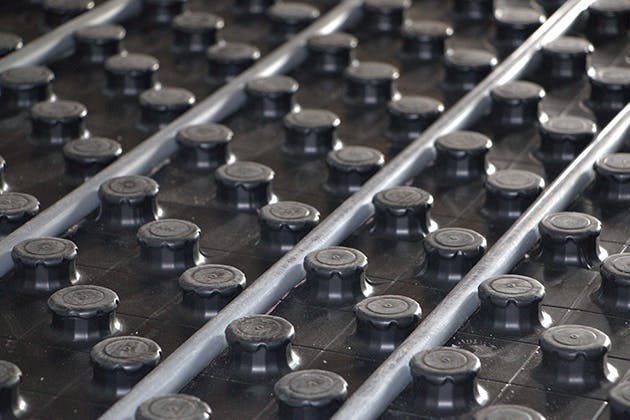 Benefit from a consistent room temperature
As underfloor heating heats the room from the ground up, as opposed to radiators that heat across the room, this means that you are much more likely to get a consistent room temperature across the entire room. Your room is much more likely to heat up evenly and will leave no cold spots in the corners, creating a warm and cosy atmosphere, adding to the comfort of your home.
Underfloor heating is more hygienic than other home heating methods
It is actually possible for radiators to leave the floor level cold and dampness can occur. While dampness in your home is bad enough, it can also produce ideal temperatures for dust mites to breed. Underfloor heating heats the ground thoroughly, reducing any chances of dampness while creating an atmosphere that is too warm and dry for any mites to live in. This means that while underfloor heating is also more efficient for your home, it is actually healthier and more hygienic too, as it contributes towards a cleaner, fresher environment!
Interested in a new underfloor heating installation?
If you would like to learn more about why an underfloor heating installation is something that you should consider, then please get in touch with our qualified heating installers today! Even if you'd like to know more about why underfloor heating is the best fit for your home, or flat in Bristol, then please do give us a call on 07716 101545 or 01454 537735.

If you are based in Winterbourne, or any other surrounding areas throughout Bristol, such as Thornbury, Bradley Stoke, or Yate, and you would like a free, no-obligation quote on an underfloor heating installation, then get in touch by filling out our contact form, and we will be in touch with you as soon as we can!