Underfloor heating is becoming more popular as a cost-effective alternative to standard central heating systems. Is underfloor heating, on the other hand, the best option, and how does it work? Our skilled heating engineers explain all you need to know about underfloor heating in this comprehensive guide.
Are you considering installing underfloor heating? Our heating engineers install energy-efficient underfloor heating in Winterbourne and the surrounding regions, including Yate, Bradley Stoke, Thornbury, and other areas of Bristol call us on 07716 101545 for advice or a quote.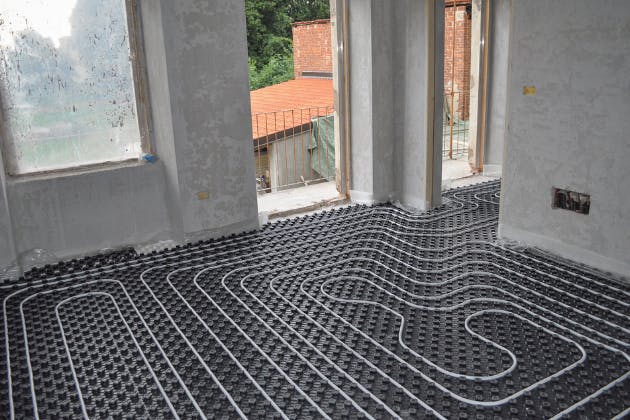 How does underfloor heating work?
Your floor acts as a radiator with underfloor heating systems. Underfloor heating (UFH) heats a room from the ground up, using a sequence of pipes (warm water underfloor heating) or cables (electric underfloor heating) installed in the floor.

How much does it cost to install and maintain underfloor heating?
You may now have a better understanding of how underfloor heating works, but can it really save you money on your monthly bills? When used in conjunction with a modern condensing boiler, warm water underfloor heating is roughly 25% more efficient than radiators, and up to 40% more efficient when powered by a heat pump. As a result, operating costs are often lower than those of a standard radiator system, and about a third of those of an equivalent electric UFH system.
In terms of installation costs, depending on the type of underfloor heating you're having installed, our heating professionals can provide you with a free, no-obligation quote for any underfloor heating installation. Use our contact form to get in touch with us!

Is an underfloor heating system suitable for my home?
Your home, regardless of its age, size, or design, is likely to benefit from underfloor heating. We will design your UFH to be a perfect fit, whether you're building an extension, a new home, or renovating an existing home.
We consider your home's age and construction, as well as its insulation and glazing levels, its location and orientation, the floor coverings you choose, and how you utilise different portions of your home. The more energy-efficient your underfloor heating system is, the lower your UFH costs and monthly bills will be.

All new homes in the United Kingdom are designed to strict insulation and air tightness standards, which are essential for effective underfloor heating. The system can be employed in older homes as long as the insulation levels are increased to the maximum extent practicable in accordance with current Building Regulations. Other renovations, such as double-glazing, will aid if this is not practicable.
UFH can be placed in a listed building where such improvements are unfeasible, although it may require a higher flow temperature and closer tube spacing than in a well-insulated property. We provide detailed information on each system's predicted heat outputs, as well as a clear indication of any places that may face a shortfall during the coldest days.
We will always tell you if we consider the home is not suited for underfloor heating.

Do you want to install new underfloor heating?
Please contact our qualified heating installers if you would like to learn more about why an underfloor heating system is something you should consider. Please call us on 07716 101545 if you'd like to learn more about why underfloor heating is the best option for your home or flat in Bristol.
If you live in Winterbourne or any of the neighbouring Bristol locations, such as Thornbury, Bradley Stoke, or Yate, and would like a free, no-obligation quote on an underfloor heating installation, please fill out our contact form and we will get back to you as soon as possible!