Many of you will have heard of underfloor heating as a method of central heating for homes throughout Bristol, in areas such as Thornbury, Yate, Winterbourne, Bradley Stoke and the surrounding areas, but how underfloor heating works might not be clear. In this blog post, C Brookes Plumbing and Heating will outline just exactly how it works and why you should consider an underfloor heating installation in your home today.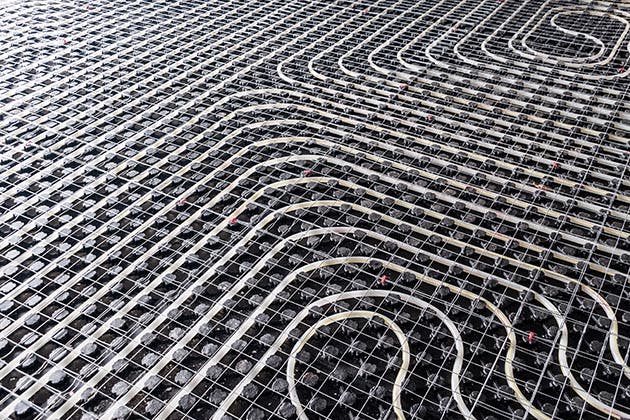 Why should I consider underfloor heating?
Underfloor heating is certainly not a new method of central heating, it has been readily available for many years now. However, it is a heating option that is often overlooked and has been for quite a long time. Nowadays, underfloor heating systems are now considerably more practical, efficient, and economically beneficial than ever before, thanks to material and technical breakthroughs. There is also an element of a stylistic shift in peoples' desires for how they want their home to look, with minimalism playing a huge role in how most residents in the UK would like their homes to look. Radiators are now more commonly seen as unsightly by most homeowners, and a great way of replacing them would be to install underfloor heating. Removing your radiators will allow you to save room in your home while also giving a more efficient heating option if you replace them with underfloor heating.
How does underfloor heating actually work?
You may not know exactly how underfloor heating works, so we are going to describe the entire process for you. As underfloor heating works in tandem with convectional flow, it is the most efficient form of heating. The aluminium coils are installed underneath your floor layer and layed across the floor, allowing your room to heat up from the bottom up. As head height is colder than feet level, this guarantees that the entire room is heated evenly and offers a more pleasant environment.
Each room with underfloor heating may be adjusted independently. This enables you to choose a temperature that is appropriate for the space, as well as switch off the heating in rooms that aren't utilised or require minimal warmth. As underfloor heating is a more effective heating technology, the water temperatures required are actually lower than radiators! Lowering the input water temperature reduces the amount of energy used by the heater, lowering the cost to the homeowner. This is the main reason why underfloor heating is so much more efficient and cost-effective.
Interested in getting underfloor heating installed? Get in touch with us today!
Please contact our expert heating installers if you would like to learn more about why an underfloor heating system is something you should consider for your home. Please call us on 07716 101545 if you'd like to learn more about why underfloor heating is the best option for your house or flat in Bristol. If you live in Winterbourne or any of the surrounding Bristol locations, such as Thornbury, Bradley Stoke, or Yate, and would like a free, no-obligation quote on an underfloor heating installation, then fill out our contact form and we will get back to you as soon as possible!