At C Brookes Plumbing and Heating, we often get asked what the best gas boiler is. In truth, it's very much the case that most boiler brands have some brilliant, energy-efficient models that are easy to use and have low running costs. However, leading boiler brand Viessmann have recently unveiled the next generation of our most popular gas-condensing boiler which we are really excited about! Click to find out more!
Why choose a gas boiler?
When comparing gas boilers to other types of boilers, such as LPG, electric or oil-fired boilers, they remain the most widely-used boiler in the UK and are still one of the cheapest heat generators available. By avoiding the commitment of high costs, homeowners are able to remain financially flexible by choosing a gas boiler for their home.
Choosing a gas boiler for your home will allow you to incur low consumption costs, while having a boiler that you can rely on for providing your home with hot water and consistent central heating all year round.
There is also a massive economic benefit of choosing a gas boiler for your home. Natural gas burns cleanest out of most fossil fuels, while producing only a few gases that pollute the atmosphere. Choosing a gas boiler will increase the economic efficiency of your home, while reducing the burden on the environment: a win-win!
Which gas boiler is the best for your home?
There are many options if you'd like a new gas boiler installation at your home in Winterbourne, Bristol. Our boiler installation specialists at C Brookes Plumbing and Heating install a wide range of brands of boilers, but we have identified a brand new model that has just been revamped, and is a cut above the rest... That's none other than Viessmann's Vitodens 100-W model.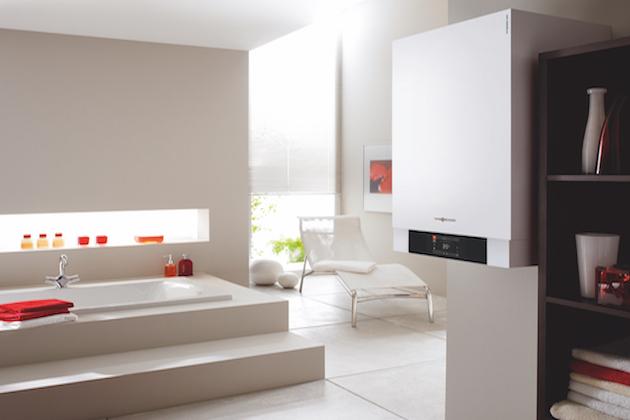 What makes the Vitodens 100-W stand out?
With its versatile and compact design, quiet operating noise and WiFi compatibility, the Vitodens 100-W is Viessmann's most impressive model yet.
Versatile output options available
With kW outputs ranging from 3.2 kW to 32 kW (and with an 11 kW version now added to the range), the Vitodens 100-W series is perfectly-suited to a much broader range of homes, making it an ideal choice for homeowners based in Winterbourne, no matter the size of your property.
Easy maintenance and low costs
The Vitodens 100-W's control platform is now visible inside the Vitoguide software, as previously seen on the premium Vitodens 200-W boiler. This allows any engineer who is servicing or repairing your boiler to easily access, monitor and adjust the system online, which shortens the process and reduces operating costs. That means that whenever your boiler needs to be serviced, you will have to spend less on servicing costs as they should not take as long as they might if you had an older model or different brand of boiler.
Wi-Fi

compatibility and Vi-Care thermostat

This new model comes with Wi-Fi compatibility as well as a brand new control platform which allows homeowners to enjoy a smartphone-controlled heating system from anywhere in their home. The new technology is known as the ViCare control system, which is available for both iOS and Android devices, is a feature that users will really appreciate. Your new boiler installation would come with an RF-connected ViCare Thermostat, which allows the heating system to be operated not only on the boiler's large seven-inch colour touch display, but also via any smartphone or tablet that you may have, making for an extremely modern, sleek central heating system that will stand the test of time, while being easy to use and monitor at all times.
Get in touch to book a boiler installation today!
If you are based in Winterbourne, Yate, Thornbury, or Bradley Stoke and you are interested in getting a brand new Viessmann Vitodens 100-W, or any other boiler for that matter, installed at your home today, then give us a call! You can reach us at 07716 101545. The team at C Brookes Plumbing and Heating can't wait to hear from you!