Have you decided that you might want to start thinking about going more green at home? Maybe you've thought about getting a renewable heating appliance installed in your home in Bristol, such as an air source heat pump. If you decide that you want an air source heat pump installed, how will you begin to choose which type or brand to install? In this blog post, C Brookes Plumbing & Heating take you through Nibe and Mitsubishi's air source heat pumps, to find out exactly which brand you should get installed in your home.
Air source heat pumps are an alternative heating system to conventional gas or oil boilers, and they are much more energy efficient! These units are installed outside of the house and they utilise thermal energy from the outside air to deliver heating and hot water to a house or apartment. Heat pumps that use air as a source of heat are a low-carbon, renewable technology. But which brands are the best that you should choose from?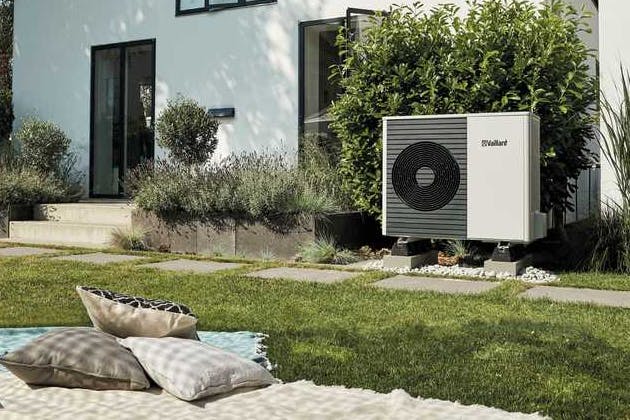 Why consider a Mitubishi Ecodan Heat pump?
The Mitubishi Ecodan system range of heat pumps is one of the most advanced heat pumps available for domestic and commercial use. They have an ERP (Energy Rating Label) of A++, which is the best energy rating you can get. The Mitsubishi Ecodan Air Source heat pump is an outdoor unit that can be installed just outside your home or in your garden and transfers heat energy from the outside air into your home, to provide hot water and heating for your boiler, radiators, and underfloor heating.
The Mitsubishi Ecodan system also comes as an indoor hot water cylinder too, which provides your home with a continuous supply of hot water, just like a standard boiler. The Ecodan hot water cylinder is specifically designed to integrate with your outdoor air source heat pump, however in some cases it can also work with your existing hot water cylinder if you already have one installed!
All Mitsubishi Ecodan heat pumps use 1kW of electrical energy input and take 2.2kW of low temperature renewable heat energy from the outside air, producing a highly efficient and impressive 3.2kW heat energy output. There are three different types of Mitsubishi Ecodan air source heat pumps; The Ecodan PUHZ, the Ecodan QUHZ, or the Hybrid Ecodan system. The Ecodan PUHZ is the air source heat pump which is best suited to small commercial buildings and as well as all types of homes. The Ecodan QUHZ is an air to water heat pump which is best suited to smaller homes and apartments with a low heating capacity, whereas the Hybrid Ecodan works in tandem with any existing boiler in your home and works with all sizes of residence.
Why consider a Nibe air source heat pump?
Nibe heat pumps are also considered to be incredibly energy efficient for your home's heating. Compared to direct electrical heating systems, Nibe's air source heat pumps can reduce your home's energy usage by up to 50 per cent!
We recommend choosing a Nibe heat pump if you have a new build or retrofit type of building based in Winterbourne, Bradley Stoke, Yate, or Thornbury. Nibe's heat pumps are available in a variety of different sizes to fit any size of house or commercial building, as well as being able to be installed outside on any type of terrain. They are definitely the most versatile of heat pumps available.
Nibe's heat pumps are able to generate up to 180kW, and they also require a clearance of only 150mm from any wall that they are installed next to, and 1 metre of open space in front of the unit, so you won't need a lot of room if you choose this heat pump to be installed at your property.
The Nibe heat pump comes in three different models; The NIBE F2040; the NIBE F2300; and the NIBE VVM 320. The F2040 model is best suited for domestic buildings such as homes and apartments. They are able to be installed quickly and smoothly, and come with an anti-vibration water connection with the outdoor unit. The F2300 model comes in two output sizes of 14 and 20kW, and both are better suited to larger residential buildings and commercial properties. These heat pumps are perfect for small businesses and have a strong focus on remaining as quite as possible when functioning. The VVM 320 model is the complete air source indoor model, which provides homeowners with a complete system to supply your home's heating as well as hot water, too! We recommend this product for new builds.