Not all boilers are created equally. With a range of price points and boilers available for consumers, it's wise to get informed about the most reliable boiler brands and manufacturers. Whilst all commercially available boilers have to meet strict guidelines, opting for outstanding brands can give your boiler the edge when it comes to efficiency, longevity, usability and more. Spending an extra bit of money on a top boiler brand can sometimes help you save money down the line.
Though Viessmann boiler prices offer a fantastic value, their prices can be perceived to be on the higher end. We believe this shouldn't let you put you off. Viessmann uses top quality materials and world-class engineering to build their boilers. With Viessmann, you truly get what you pay for - and more.
With even Viessmann's entry-level models offering 'high-end' performance, it's a solid choice even on lower boiler budgets.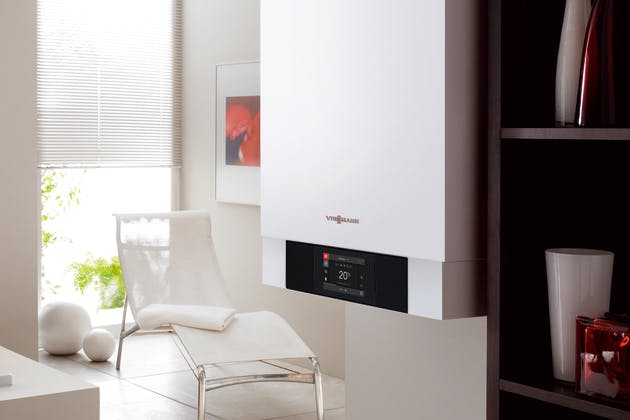 As a homeowner, what benefits can you expect when choosing a Viessmann boiler?
So we know that Viessmann uses top quality engineering and parts to build their boilers, but how does this translate into the real world?
Quiet
Technology in Viessmann has gained them a reputation as quiet additions to your home. The quietness in Viessmann boilers allows less disruption to your day-to-day life and more flexibility when it comes to boiler placement.
Energy Efficient
Viessmann built A-rated boilers that are fantastic at reducing your impact on the planet and the environment. Not only this, you can also expect to save money on your monthly heating bill if you are upgrading from an older less effective boiler.
Long-lasting
Viessmann boilers are known to be reliable boilers that have great longevity when well serviced. Along with this, they offer fantastic boiler warranties to give you peace of mind when choosing a Viessmann boiler.
Top-class engineering
Germany has a reputation for some of the best engineering in the world and Viessmann is no exception. There's no doubt that Viessmann boilers are engineered to an extremely high standard and designed to last.
Choose the right boiler installer for your Viessmann product
Important to note is that boilers are only as good as the heating engineers who install them. Opting for a knowledgeable boiler installer is an important piece of the puzzle on your journey for a performing boiler.
C Brookes Plumbing and Heating have extensive experience installing Viessmann boilers and are experts when it comes to Viessmann products. We can make the best recommendations for your home and the needs of you and your family.
Increase the value of your home with a new Viessmann boiler
When thinking of how to increase the value of your property, there are many things you could invest in; a loft conversion, a new bathroom, a conservatory extension, a new patio or porch, or much more! However, not all these changes you make are guaranteed to increase the value of your home. It might be the case that your property price might not even go up if you refurbish a bathroom, which would be quite frustrating if you've forked out thousands to get it done.
Improving the efficiency of your central heating system by installing a brand new Viessmann boiler however, will undoubtedly increase your home's value. Homeowners are much more likely to see a return on investment when they invest in their central heating, as a more efficient heating system will mean that less money will need to be spent on monthly gas bills.
Many buyers could be put off a property if the boiler is old or the system seems a bit rickety. This is because having a new boiler installed, or even a whole new central heating system installed can be expensive and is an investment that would need to be made immediately.
Viessmann boiler installation throughout Bristol including Winterbourne, Yate, Thornbury and Bradley Stoke
To book a Viessmann boiler installation with the Gas Safe heating engineers at C Brookes Plumbing and Heating call us today on 07716 101545 or reach us through our website's contact form. You can also send us an email at cbrookesplumbing-heating@outlook.com.