You might be interested in getting a heat pump installed in your home because you may have realised how much more efficient they are to traditional heating systems such as boilers and radiators. However, you may not have a clue about the first place to start when it comes to choosing the right brand for your new heat pump. That's where we come in! C Brookes Plumbing and Heating are heating professionals based in Winterbourne, Bristol and we offer our heat pump installation services across all surrounding areas including Bradley Stoke, Yate, Thornbury and many others. In this blog post, we're going to explain why choosing a Vaillant heat pump is such a good idea for your home.
It might be the case that you're not yet convinced that a heat pump is a good option for you, and if so, that's absolutely fine! At C Brookes Plumbing and Heating, our heating professionals are always here to offer advice and help where needed. If you are interested in learning more about how heat pumps can help your home, and you wish to speak to one of our heating professionals, then give us a call on 07716 101545 and we will be more than happy to speak to you.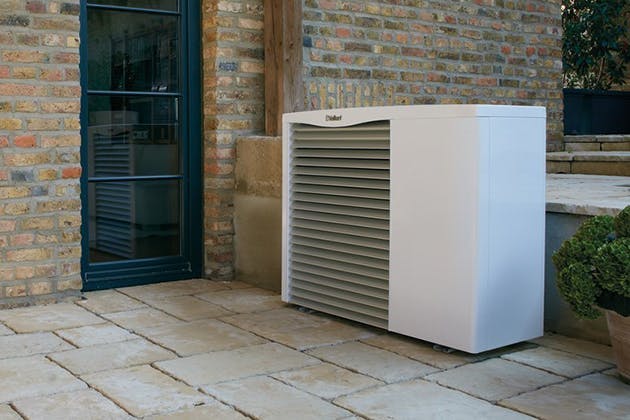 Why should you choose a Vaillant Heat Pump for your home?
3x more efficient than a traditional boiler
An air-source heat pump is 300% efficient, but even the most efficient boiler is only 92-93% efficient (losing the remaining 7-8% of energy through waste gases). This shows that an air source heat pump produces 3kW for every 1kW of energy it consumes. Due to their high efficiency, energy bills should consequently be lower.
Vaillant provide you with a hybrid heating solution
With the familiarity of a classic boiler, a hybrid heating solution is the first step toward a future of greener, cheaper renewable energy. It's essentially the best of both worlds, as well as one of the most advanced examples of this cutting-edge technology available today.

Quiet Mark accredited
Vaillant understands that you want your home appliances to work quickly and consistently while still being as quiet as possible. The Quiet Mark has been given to the aroTHERM heat pump in honour of their accomplishments in this field.
Lower your carbon footprint
Heat pumps take a tiny amount of electricity to operate, but they can reduce carbon emissions by up to 50% in a home. Using air instead of fossil fuels like gas and oil to heat your house and hot water would drastically reduce both your environmental impact, as well as your energy spending every month, which given the recent surge in energy prices, is something that we are sure that you will be interested in doing!

Earn money through the RHI when you choose to install a new heat pump in your home!
If you choose to get an aroTHERM air-to-water heat pump installed by C Brookes Plumbing and Heating, through the government's Renewable Heat Incentive (RHI) scheme, you will be entitled to earning some money back on your investment! As we are an MCS accredited business, we are able to make you legible to benefit from this scheme. For the first seven years after a heat pump is installed, the RHI plan compensates owners of qualified renewable heating systems for each unit of energy the heat pump generates. The amount of money you'll get depends on the current tariff, the technology you have in place, and how much energy you create.


Contact us for a Vaillant Heat Pump Installation today
If you'd like to speak to one of our air source heat pump installers based near Winterbourne or the surrounding areas, such as Thornbury, Bradley Stoke, Yate, or any other neighbouring areas, who can provide tailored advice and a free installation quote, fill out our contact form now and we'll give you a call back to discuss your heat pump installation options and decide whether a Vaillant heat pump is the best fit for you.